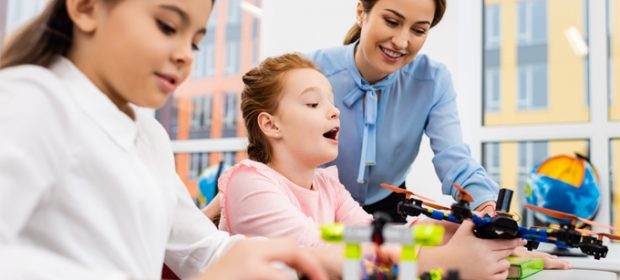 This HLTA course is ideal if you want to further your career prospects and become a Higher Level Teaching Assistant. It's designed to deepen your understanding of the role through a series of assignments and practical tests.
The CACHE Higher Level Teaching Assistant Course is a well-respected qualification that's recognised by educational authorities in the UK. It's often regarded as an essential part of every HLTA's CV.
CACHE Level 4 Teaching Assistant Course
This course is aimed at teaching assistants who have completed CACHE Level 3 training. However, you can still take the course even if you haven't studied at that stage.
You have to successfully complete every part of the course to be awarded the Level 4 Certificate. Completion relies on regular assessment regarding seven key assignments and NOT a final exam. It's an ideal format if you tend to suffer from exam nerves.
You must be over eighteen years of age and already be in a teaching assistant post. An unpaid voluntary placement is an acceptable alternative. It's necessary to be in a classroom environment as the course includes three practical tests.
These have to be verified by the teacher you have been assisting. You also have to devise and research a project, and submit written work for four assignments. See all module details here.
HLTA Online Course Benefits
A great advantage of the course is online learning. There are no restrictions such as fixed starting dates. The course only begins when you have enrolled and the assignments can easily be integrated with your work schedule. You don't have to take up valuable time travelling to a venue or spend money on transport.
Once you have enrolled, the course is available for exactly twelve months. The student portal platform never closes, so you can access it at any time. It's convenient, flexible and designed to let you study in your own way.
An online tutor supervises your course and marks your assignments. He or she provides advice and support through e-mails or the student messaging system. Every tutor involved in this Higher Level Teaching Assistant course is fully qualified and highly experienced, ensuring you receive the very best tuition.
How this Higher Level Teaching Assistant Course Works
After you have enrolled, you simply set up an account and password. Everything you need is organised through your online account. It's where you'll access and submit your written coursework.
There's an informative help centre that explains practical problems such as how to upload assignments or contact your tutor. It also provides access to valuable research material and information about the assignments. As you progress through the lessons within each assignment, your work is securely saved in your profile.
The course is available on any device, including your mobile phone. It's compatible with both Android and iOS systems. However, you'll enjoy the presentation more if you study using a laptop or desktop browser.
HLTA Course FAQ
1.  Where can I do an HLTA course?
This particular Higher Level Teaching Assistant Course is available online. It's a convenient way to study without the disruption and expense of attending classes at a college. You can even access it while you're on holiday in another country.
2. What qualifications do I need to do an HLTA course?
Practical experience is a requirement for this particular course. You also need to be currently in a teaching assistant's role. Completing Level 3 beforehand is helpful, but not essential.
3. How much does an HLTA course cost?
The course costs £749.99. You can pay by interest-free instalments and if you change your mind within fourteen days, you can request a refund. See payment options here.
4. How long does an HLTA course take?
The course lasts for 205 hours. You can complete sections whenever you like providing it's within the twelve-month allowance.
5. What does an HLTA course involve?
You'll need to complete four written assignments, three practical tests and one project. The course fee includes the payment for your certificate. See all course modules here.
Conclusion
This CACHE Higher Level Teaching Assistant Course could give you a distinct advantage in your teaching assistant career. It's an acknowledged qualification within the UK education system. It combines written work with practical tests to prove you have gained valuable classroom experience.
The online course gives you the freedom to study whenever you find it convenient. It has become an effective method in helping teaching assistants gain essential skills without any loss in the quality of tuition. It will undoubtedly make your studies more manageable and stress-free.
When you study this course, you have the added benefit of help and advice from a real tutor. All in all, completing this CACHE Level 4 Teaching Assistant course is without a doubt one of the best ways of enhancing your career in the education field.
Ready to start your HLTA Course? Book your course here and start studying today!