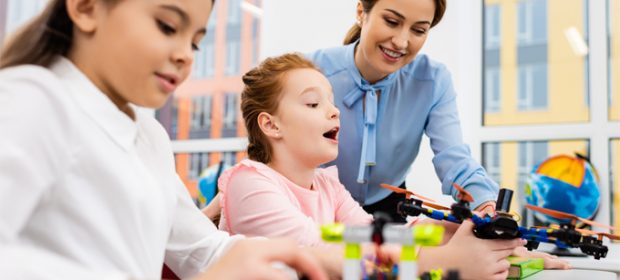 "Why do you think you would be a good teaching assistant?" is often asked at every interview for such a role. Your response provides the interviewers with an insight into how you assess your own abilities.
The sample answers below can either be used word for word in most situations, or you can alter the answers to best suit your situation.
Either way, you should highlight your strengths when you're asked this teaching assistant interview question.
9 "Why do you think you would be a Good Teaching Assistant?" Sample Answers
1. I'm Passionate about Education
Although I chose not to study for A levels and further education, it's a decision I often regret. My own experience has taught me that we shouldn't waste our opportunities at any age. I now understand the importance of education throughout our entire lives.
By being a teaching assistant at your school, I believe I could help encourage pupils to view classroom activities as exciting and fun.
I could help even the youngest pupils regard education as a pleasure and not a chore. I'm confident I can stimulate their inquisitiveness.
2. Patience is my Strength
I realise how important it is for teaching assistants to be patient. Fortunately, I have a naturally high tolerance level for frustrating situations.
For instance, I always stay calm when my own children are being unreasonably awkward. I never overreact or lose my temper as I believe it's important not to respond to irritating behaviour.
My personality is generally even-tempered and placid. I believe that as a teaching assistant, I could bring a calming influence to the classroom.
Children are more likely to pay attention to the teacher's lessons if the atmosphere is harmonious and settled.
3. I am Determined
I'll persevere with tasks even when other people have long given up. When I enrolled in my teaching assistant course online, I had very little spare time to study. However, I reorganised my day and persevered with each assignment even if I had to stay up late.
If I became a teaching assistant in your school, I'd apply the same determination to help the teacher marshall the children towards improved levels of learning.
I'd persevere with children who found a lesson difficult to comprehend. I'd go over it with them in different ways until they'd reached a satisfactory understanding.
4. I'm very Resourceful
I have always been able to see the best in any situation. Being an optimist helps me be resourceful. As a teaching assistant, I understand it would be my responsibility to prepare materials for each lesson.
As an example, if a delivery of books weren't those the teacher had ordered, I'd never suggest abandoning the lesson. Instead, I would search the stockroom for existing books related to what the teacher wanted to talk about.
I'd also find online information that could be used. Whenever the unexpected happens, I'm positive I can amend the situation with an alternative solution. And sometimes, the unforeseen circumstance can often work out better than the original plan.
5. I'm an accomplished Multi-Tasker
From my research, I know that being a teaching assistant involves multi-tasking. It's something I have always been good at. Running a home, looking after my children and holding down a part-time job with different shift patterns has never made me feel overwhelmed or unable to cope.
I simply organise my time and prioritise what's urgent. I also have a good memory and write lists so everything gets done. Helping a teacher organise different lessons is something I'd look forward to.
I believe my multi-tasking expertise would help us achieve outstanding results in every lesson.
6. Teamwork is Important to Me
I have always liked being part of a team. It usually leads to solutions that are more creative than if you're thinking of ideas on your own. I love sharing thoughts on how to efficiently deal with specific problems.
As your new teaching assistant, I'd quickly integrate with the teachers and tailor my contribution to match their individual teaching styles.
I am also competent at taking orders and won't take offence if the teacher corrects anything I say or do. I believe teamwork is vital in education.
7. Adaptable Communication Skills
I'm always adaptable when dealing with different age groups. I can communicate effectively with very young children, teenagers and adults.
I have nieces and nephews of varying ages and we all have great fun sharing chats about what's relevant in their lives.
I'm also well-mannered and respectful when talking to older adults or people in positions of authority. As a teaching assistant, I'd be adaptable, but I'd also provide concise and clear instructions to avoid confusion or errors.
8. I'm very Creative
I've always been a creative person. Artistic pursuits are very therapeutic and relaxing. I believe pupils can discover new skills through art. It usually encourages them to be imaginative.
However, I'd apply my creative skills to all aspects of being a teaching assistant. I would help the teacher devise new ways of presenting lessons to maintain the pupils' interest.
9. I have Studied First Aid
My previous job included taking a first aid course to ensure I knew what to do in a medical emergency with other staff members or customers. Part of the online coursework for my teaching assistant certificate also had sections on health and safety.
As a teaching assistant, I am already well-versed in first aid procedures and how to keep pupils safe from danger.
Conclusion
When you are asked "Why do you think you would be a good teaching assistant?" you have the opportunity to share your expertise. Remember to keep it relevant to the role of teaching assistant.
Your personal qualities and life experience should provide an image of someone who is calm, resourceful and works well under pressure.
Your answer should be concise, informative and show you understand what's expected of a teaching assistant.