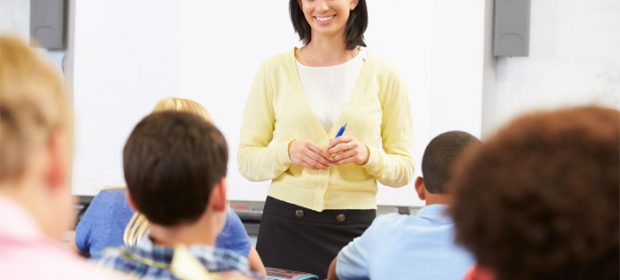 (Last Updated On: February 21, 2022)
Familiarizing yourself with a few teacher interview questions like the ones below is the best way to ensure you're prepared for your teacher interview.
Being a teacher means being a master of preparation, and as you already know, preparing lesson plans is a major part of the everyday life of a teacher.
Preparation should also be a big part of the process of getting a teaching job.
By studying these common teacher interview questions, you're setting yourself up for the best possible outcome at your interview.
7 Most Common Teacher Interview Questions and Answers
These are some of the most common teacher interview questions of 2022.
Each question has a sample answer below it, you can use this to take inspiration and formulate your own unique answer to match your circumstances.
1. Why do you want to be a teacher at this school?
Answer: It's a well-established school, but its reputation in recent years has diminished. I'll inspire pupils to rediscover the value of learning and I'm confident I can help to restore parents' confidence in the school.
2. What are your strengths as a teacher?
Answer: I'm an effective communicator with good organisational skills and a passion for learning, while instilling discipline and respect. My enthusiasm ensures lively and interesting discussions, encouraging pupils to produce detailed projects.
3. What are your weaknesses as a teacher?
Answer: I'm over-enthusiastic when explaining topics which leaves lessons short of time. Balanced planning is helping with this. Opportunities to use software packages have been limited, but I'm taking lessons to improve my understanding.
4. Why should we hire you as a teacher?
Answer: I'm dedicated, hardworking and adaptable with a broad knowledge of my subjects. I'll quickly settle into the established routine. I share the school's values of helping pupils of all abilities achieve their full potential.
5. Do you think it's the teacher's role to safeguard pupils from online bullying?
Answer: Everyone should be aware of this problem, but as a teacher, I have more opportunities to offer guidance. I'd encourage pupils to confide in me when experiencing online harassment or bullying. My training taught me how to effectively deal with such issues.
6. How would you adapt a lesson to cater for SEN?
Answer:
I'd introduce collective projects where the individual talents of each child are encouraged. Pupils with mainstream abilities could provide detailed maps and essays on the local infrastructure.
SEN children could contribute drawings of the same landscape and details on local plants and animals.
7. Where do you see yourself in 5 years as a teacher?
Answer:
As a dependable, adaptable member of staff with enthusiasm for all aspects of the school's performance. I'd enjoy seeing how my pupils' education and personal qualities had developed.
Hopefully, the experience I'd gained during that time would have a valuable influence on my teaching skills.
26 Common Teacher Interview Questions and How to Answer Them
1. What encouraged you to join the teaching profession?
This will reveal to the interviewer something about your character and motivations. The reasons behind deciding to pursue a teaching career can show the panel that you see the profession as a vocation rather than just a job.
2. Why do you want to leave your current school?
It's important to never say anything negative about your current employer no matter the reason for wanting to leave.
Say lots of positive things about the school that is interviewing you and reasons why they could offer you better career prospects.
Related: Why did you leave your last job?
3. Why did you choose to apply to our school?
This is your opportunity to show off your research about this school. You could mention its excellent results, its good local standing, its reputation and opportunities that it can offer you in the future.
4. What can you offer our team?
This is your chance to demonstrate your assets. Any specialist skills, interests or experience that you have should be mentioned here.
For example, if you are prepared to run an after-school club for the pupils, assist with a school sports team or mentor pupils, make sure to emphasise this now.
Related: Why should we hire you?
5. How do you view the role of a teacher?
Don't stop at the basics. Yes, you can mention the primary duties, but there is a lot more to the teacher's role than that.
The interviewer wants to know that you understand both the educational and pastoral elements of the teaching profession.
6. Which key stage do you prefer to work with?
It's important not to tie yourself down here. Although you may be applying for a role in one key stage, schools often move teachers around, so you may end up working in a different part of the school.
Show your commitment to the profession as a whole and say positive things about all key stages, although it is acceptable to say that the majority of your experience is in one particular area.
Related: Why do you want to work with children?
7. How would you describe your working relationship with other professionals in your classroom?
The interview panel wants to know that you value and respect your colleagues, their ideas and opinions.
If you will be working with a teaching assistant, a job-share teacher, or external professionals working with individuals in your class, the school needs to know that you are capable of working cooperatively and productively without causing friction.
8. How can you ensure that your whole class learns effectively?
This is your chance to talk about different styles and teaching methods. Talk about providing a range of opportunities for those who learn in different ways, such as kinaesthetic, visual and auditory learners.
Provide examples of times that you have done this in the classroom and achieved good results.
9. How can you ensure good behaviour management in your classroom?
First and foremost, you must stress here that you will always adhere to the school's own behaviour management systems and strategies.
If you can, before your interview find out which strategies and methods are being used in the school's classrooms and talk about using them effectively in the interview.
Give examples of times that you have managed behaviour well and talk about a few different strategies that work well for you.
10. What do you think is the best way to encourage active learning?
The panel wants to know that you are the kind of teacher who can really engage their pupils in their work.
In today's schools, there is an expectation that children will actively participate in their work rather than simply sitting at desks copying out of textbooks.
Talk about opportunities for encouraging children to actually get up and get active to cement their learning, from making a human model of the solar system to creating and performing their own plays.
11. How do you see the parent's role?
The panel wants to hear that you support parent participation and understand the vital role that families play in their child's education.
Offer examples of times that you have involved parents in the classroom or in-home learning, and emphasise the importance of parents in partnership with schools.
The message you are giving here is that good working relationships with parents is key to persuading children of the importance of education.
12. What qualities do you have that makes you stand out as an excellent teacher?
This is another opportunity to sell yourself, however, this question is not only about your qualifications and experience, it is also about your personality too.
What is it about you that makes you special in the classroom? How does your individual character help you to get better results from your pupils or forge stronger and more positive relationships?
Related: Why do you think you would be a good teaching assistant?
13. How can you motivate your students?
This question gives you the chance to talk about your classroom practice and experience. Which tactics have you used to encourage hard work and good behaviour?
Whether you give certificates for achievement, a star of the week badge or rewards for receiving a target number of stamps for good work, be sure to mention your successes.
14. How will you provide work that suits the needs of all pupil abilities?
This is a differentiation question. The interview panel needs to know that you understand that all children learn at different rates and need work to suit their level of skill.
They want to hear that not only will you provide less difficult work for the least able pupils but you will ensure that the most capable children in your class will be challenged and pushed to achieve even more.
Don't forget to talk about the careful deployment of learning support assistants - it's important for the more able groups to benefit from learning support assistance too and for teacher focus to be spread evenly throughout the week on all ability groups.
15. What achievement in your educational career are you most proud of?
This will of course depend on your own personal circumstances, but ensure that you have picked an achievement that shows off your ability to engage with your pupils and achieve excellent results.
You may have made excellent inroads with a pupil who arrived at the school with very little English, or turned around the poor behaviour of a troubled pupil.
Perhaps your class achieved the best results in the school, or you were instrumental in setting up a particular school policy or scheme of work.
Your achievement should be something that sets you apart from the crowd and demonstrates your excellence as a teacher.
16. What are your professional development goals?
Professional development is key to every teacher's career plan, but you need to show your ambition without appearing arrogant.
Saying that you want a fast track to headship may not necessarily be the best way forward.
On the other hand, you need to demonstrate that your career goals are more ambitious than vegetating in the classroom for the rest of your teaching life.
Even if you have no interest in joining a leadership team, you should still appear keen for progression and to branch out into other areas.
Talk about areas that you have an interest in exploring within the school and think about ways that you can incorporate your existing skills and interests into your professional development plan.
17. What do you think are the most important issues affecting education today?
There are no right and wrong answers to this question, the purpose behind it is to find out how much you know about your profession as a whole, and whether you have enough interest and commitment to your vocation to be aware of wider issues through research.
You should be prepared to talk about some of the current political context regarding education and offer some suggestions about how these challenges can be addressed in schools.
18. How would you layout your ideal classroom?
If you have had the opportunity to look around the school before your interview, this will help you to make an informed answer here based on the style of the classroom you have seen.
You should also address the issues around the effect of layout on behaviour and achievement as well as talking about dedicated areas for particular topics and the importance of display.
19. How do you think your current or former colleagues would describe you? This is another opportunity to emphasise the positive sides of your character. Good suggestions for keywords here are positive, outgoing, dynamic, creative, engaging, inspiring, ambitious…
20. What recent CPD have you undertaken?
This is usually a fairly easy question as most teachers have attended a host of courses as part of their ongoing career development plan.
Pick out the most important courses that you can discuss fully and explain why they have been useful to you.
21. What do you think is the importance of home learning?
The key here is to emphasise balance. The panel want to know that you know why you are setting homework and the sort of tasks that you might be asking the children to complete.
Encouraging parent participation in their child's education, reinforcing classroom learning and expanding their field of knowledge are all important to emphasise.
22. How have you contributed to the development of your current school as a whole?
This is the time to talk about any whole-school projects that you have worked with or any policies that you have drawn up or introduced.
If you ran any clubs or activities you can mention these now, as well as any mentoring or tutoring that you have helped with.
23. How do you communicate with parents regarding pupils' achievements?
This question is designed to make you express the importance of parents as partners.
You need to stress how vital it is to keep in touch with parents about their child's progress or any problems they are experiencing in class.
Home/school books, open-door policies, and occasions when you have had to call in parents should all be talked about at this point.
24. How do you use a cross-curricular approach to the curriculum?
Schools today want their teachers to address several subjects at the same time, for example, a historical topic can be explored through English by using diary writing skills or news reports.
The panel wants to know examples of times you have used cross-curricular links in your teaching practice and ways in which you can promote this in your classroom.
25. What is your greatest weakness as a teacher?
This is a tricky question to answer, as you don't want to give a poor impression of yourself but at the same time you cannot come across as arrogant.
The best way forward is to choose a "teacher weakness" that is actually a positive in disguise.
For example, you have a tendency to be too enthusiastic about your subject, or that you spend too much time planning and preparing your timetable for the week ahead and have a poor work/life balance.
26. Do you have any questions that you would like to ask us?
This is almost always the last question of your interview and to say that there is nothing you want to know always leaves a poor impression.
Think of a couple of good questions to ask the interview panel without appearing awkward or confrontational.
Avoid issues about progression or salary but also avoid anything too obvious.
One possibility is to ask about opportunities to run activities for the pupils or current behaviour management strategies that are in use in the school.
Remember that asking questions is a big part of showing interest in the school that you have applied for and demonstrating that you are keen to become a part of their community.
Related: 20 Good questions to ask in an interview.
10 SEN Teacher Interview Questions
SEN teachers require patience, understanding and a high level of perception. Interview questions provide an insight into your suitability for this role, here are 10 Special Educational Needs interview questions:
Why do you want to teach children with SEN?
What equipment helps SEN pupils improve manual dexterity?
How would you encourage children with learning difficulties to communicate?
What would you include in an Individual Lesson Plan?
How much practical SEN experience do you have?
Which SEN teaching strategies are the most effective?
What standards do you think individual SEN pupils can achieve?
How would you deal with disruptive behaviour?
Can you establish a good rapport with parents?
How would you motivate a pupil with SEN to complete projects?
10 Teacher Interview Questions on Safeguarding
Safeguarding has become a dominant feature of schools. Your interviewer wants to establish your perception and knowledge of safeguarding procedures. Here are 10 safeguarding interview questions:
What are the signs of a child being abused, harmed or neglected?
What are a teacher's safeguarding responsibilities?
How would you deal with a pupil who was bullying classmates?
What would you do if a colleague behaved inappropriately towards a child?
How do you feel about pupils making allegations about staff behaviour?
How would you ensure your classroom is a safe environment?
Who would you inform over suspicions of child abuse?
Why is safeguarding important in schools?
Would you question a child who was unusually withdrawn?
What would you do if an unwelcome visitor entered your classroom?
10 English Teacher Interview Questions
Teaching English includes an appreciation of literature and poetry. It also teaches the value of comprehension and structuring sentences in everyday life. Here are 10 English teacher interview questions:
How would you teach pupils to analyse an extract of English prose?
How can comprehension help pupils throughout their lives?
What is the importance of creative writing?
How would you motivate pupils to appreciate Shakespeare's plays?
Is grammar important in primary school?
Does reading aloud improve pupils' English language skills?
Which novels do you think pupils should study?
How should pupils construct an essay?
How important is English in relation to other subjects?
How would you help pupils who speak English as a second language?
10 High School Teacher Interview Questions
When interviewing to be a high school teacher, you are being evaluated to see if you are a good fit for the school.
High school teacher interview questions are also asked to help assess your fitness for teaching at this grade level. Here are 10 questions to anticipate.
Why do you want to be a teacher?
What would you do if a student was disruptive during class?
What is your teaching philosophy?
How do you plan lessons?
How would you respond to a parent who comes to you with concerns about their student's performance?
What is your approach to time management?
How would you accommodate your lesson plan for a special needs student?
How do you evaluate if your teaching has been effective?
Do you consider different learning styles when making lesson plans?
What role do you see for technology in your classroom?
10 Elementary Teacher Interview Questions
Teaching elementary school offers unique challenges. Elementary teacher interview questions are asked to help determine whether you are able to meet those challenges.
You can expect a mix of standard interview questions as well as questions specific to elementary teaching. Here are 10 questions to anticipate.
Why are you interested in teaching students at this level?
How will you communicate with parents?
What is your approach to discipline? How do you respond when students misbehave?
How do you feel about standardized testing?
What are the developmental characteristics and needs of children in the grade you want to teach?
What procedures or routines would you use in your classroom? How would you introduce these to your students?
What is your favourite book? What was your favourite book as a child?
What would you do if a student were to confide that they are being abused at home?
What hobbies or activities or interests do you have outside of teaching?
How would you motivate a student who is struggling?
10 PE Teacher Interview Questions
Physical Education teachers have an important role in keeping children active. They also teach the rules of different sports and encourage teamwork.
Why is PE important in schools?
How do you motivate pupils to play outdoor sports in cold weather?
How does PE benefit young children?
Why is first aid and safety important in PE lessons?
What would you do if a pupil was reluctant to join a PE activity?
How does PE contribute to teamwork?
How can PE benefit pupils in their everyday lives?
Does PE contribute to a child's confidence and self-esteem?
How would you encourage sportsmanship in PE lessons?
Is it important to teach the rules of popular sports?
10 Maths Teacher Interview Questions
Mathematics is part of daily life. Maths teachers provide everything from basic numeracy to complex formulae.
How important is mathematics for young children?
How would you correct poor numeracy in older children?
How do you explain the relevancy of algebra to pupils?
Can pupils find any practical use for trigonometry?
How would you deal with a disruptive pupil in your maths lesson?
How would you motivate pupils to enjoy mathematics?
How have you helped pupils who struggle with numeracy?
Should pupils be encouraged to do mental arithmetic?
How much should technology be used in maths lessons?
How do you explain the role of mathematics in everyday life?
10 Geography Teacher Interview Questions
Teaching geography combines theory with practical fieldwork. The subject encompasses ecological issues as well as traditional analysis of the landscape.
Why are geography lessons important?
Do you think field trips are necessary?
How do you make geography lessons interesting?
Are environmental issues an important part of geography?
What would you do if a pupil went missing during a field trip?
What relevance does geography have in daily life?
How should field trips be funded?
Is local geography important?
How would you make geography projects interesting?
What's the most effective method of teaching geography?