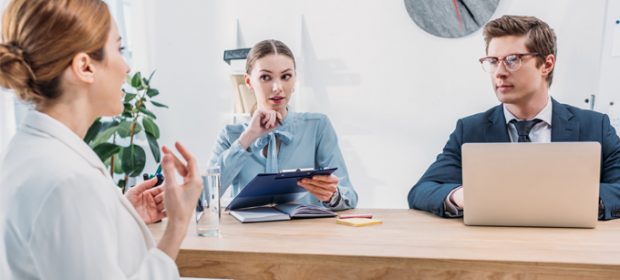 "Tell me about yourself" is a question you're sure to hear at an interview for a teaching assistant's post. The role is not heavily dependent on academic qualifications, apart from Mathematics and English.
Instead, a large part of your interview relies on projecting the most suitable personality. This article explains what interviewers do and don't want to hear when they ask you "tell me/us a little bit about yourself".
Teaching Assistant Challenges
A teaching assistant can look forward to a busy, demanding career, helping to control and educate large numbers of pupils. It's essential to have a demeanour, character and outlook that's compatible with those daily challenges.
Interviewers frequently ask questions that provide a subtle insight into your personality. They are looking for reassurance that you won't lose your temper in difficult circumstances or be distracted by any problems you face in your private life. Then they'll suddenly be direct and ask you outright to explain yourself.
Tell Me about Yourself - What Employers want to Hear About
This is your opportunity to tell interviewers about your positive qualities. Your answer should convince them that you are the person they have been searching for. They want to assess how clearly and concisely you express yourself.
They generally look for signs of positive motivation and enthusiasm. Interviewers usually expect some curiosity about the school itself or the curriculum. Competent, positive answers provide an image of confidence and reliability.
Related: Why do you think you would be a good Teaching Assistant?
Tell Me about Yourself - What Employers Don't want to Hear About
Your interviewers don't want to hear criticism of your previous job or employer. Recriminations, sarcasm or bearing a grudge are totally inappropriate when dealing with children who still have much to learn about responsible behaviour.
Interviewers definitely don't want to hear humorous accounts of the parties that might fill your spare time. Rambling answers full of hesitancy indicate a negative, nervous attitude. Failing to have an answer ready to any question is also likely to work against you.
Tell us a Little Bit about Yourself
When the interviewers ask this teaching assistant interview question, they are hoping to identify personality traits that enhance the role of a teaching assistant.
The following answers are examples you can use to project a positive image of your different personality traits. You can adapt them to suit your own character during your interview.
Creativity
I love being creative. I've always enjoyed art, especially when I improvise. I sometimes make collages from scraps of fabric or make stencils to create designs. I believe art is a form of self-expression that can encourage confidence and a lively imagination.
I couldn't help but notice the children's pictures pinned to the wall when I came in. I'd love to show them a few more simple techniques such as blow painting with paper straws or using sponges to create textured patterns. Art can help all children including those with Special Needs to express their ideas.
Awareness
I am always thorough with any task I undertake. I like to research new projects to discover all the details or possibilities beforehand. For instance, I noticed this school has a particularly good reputation with OFSTED.
It's an incredible achievement when the district is often regarded as a deprived area. I'd love to be a part of that success. I'd find it exhilarating to discover more about why the teachers and pupils of the school have such an excellent team spirit.
As your new teaching assistant, I'd enjoy the challenge of continuing their hard work. I believe I could make a strong, positive contribution to the school's daily routine.
Determination
I'm always drawn to new challenges. I firmly believe that if we make the effort, every difficult situation can achieve a positive outcome. I like to keep persevering even when everyone else might want to concede defeat. I understand disruptive pupils can be particularly difficult.
I think discipline is important, but my long-term aim would be to discover any interests he or she might have. Then I'd be determined to encourage them to feel lessons were worthwhile by including a few questions related to their hobby. I'd support the teacher in exploring the possibility of devising a suitable project.
Reliability
I always like to plan for the future. I believe that a feeling of security enables me to go forward with confidence. My philosophy on life is it can be an exciting adventure, providing it's based on security and reassurance. Everyone needs a strong foundation for their character.
I'd use my views to provide pupils with a sense of stability and reliability. Under the teacher's guidance, I'd encourage them to look forward to every lesson.
I would motivate pupils to see the day's tasks as new challenges. By being a reliable influence, I'd like to help the teacher instil a positive outlook in every child.
Resourcefulness
One of my strong characteristics is being adaptable. I might have made plans for the day, but if there's an emergency, I always like to have an alternative plan to fall back on. I feel that resourcefulness should always be encouraged, especially with pupils.
In the event of an outdoor lesson being abandoned due to poor weather, I would still assist the teacher in proceeding indoors in some capacity.
Identifying the different weeds growing in the playground can quickly become an indoor lesson. I would volunteer to go out in the rain and pick some well-known weeds.
Progressive
I used to live not far from here. It's surprising how different the area has become. But I always believe that progress is a natural part of life. I love learning about the past. I've always enjoyed the social history of the neighbourhood as it makes me feel a strong sense of belonging to a community.
I'd love to encourage all the pupils to appreciate the positive aspects of the area. I'm aware your school has many pupils who use first languages other than English. But I'd like to encourage their feeling of belonging by appreciating the local history while thinking about how we can improve the area and people's attitudes.
Informed
I've been inquisitive ever since I was a child. I still like to find out what I can about new topics or situations. I keep up with current news stories and world events. I also like to learn about issues that directly affect me or my family.
For instance, when I decided to become a teaching assistant, I read many articles and books on how rewarding the career can be. Then I took a teaching assistant's course. It was conducted online, but it gave me a much greater insight into what would be expected. In fact, it made me realise how much I would love to help a teacher in the classroom.
Teamwork
I've always been more of a team player than a soloist. I enjoy the camaraderie of teamwork. Recently, I've become involved in sport at one of the local youth clubs.
We're encouraging children of all abilities to take up informal, but competitive football matches. I believe having fun while developing social skills is very beneficial for children, especially those with Special Needs.
As a teaching assistant, I'd like to use my teamwork skills to help the teacher organise the class. I'd look forward to carrying out the teacher's instructions while helping to make every pupil feel included.
Conclusion
"Tell us a little bit about yourself" is a simple question with many opportunities for diverse answers. Keep information about your private life relevant to the role of a teaching assistant's career.
Compile a list in advance of your personal qualities. Then follow the examples above and draw a parallel with what's expected of a teaching assistant. Tailor the substance of your answers to what the interviewers want to hear.
Always highlight positive attributes or sentiments. Rehearse various answers, then during your interview, you'll feel confident and relaxed, and when you're asked, "tell me about yourself", you'll be able to provide well-thought-out answers.