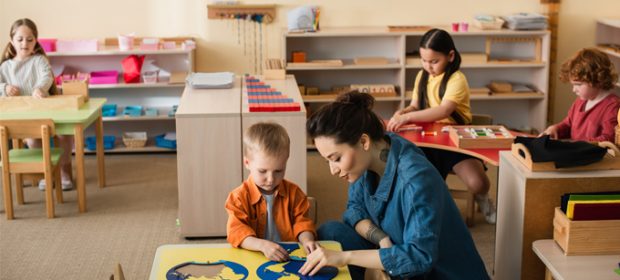 What does a teaching assistant do? The role is so varied, it has become one of the most interesting careers in the industry.
It's also one of the most rewarding because you can see first-hand how your influence is helping to shape the future of the children in your care.
Pupils in every age group benefit from the additional tuition provided by dedicated teaching assistants. But what do teaching assistant duties include? Let's find out!
What does a Teaching Assistant do?
As a teaching assistant, you primarily help the teacher provide interesting lessons. Your duties could include lesson preparation, providing pupils with educational help and emotional support. An important element of the job is teamwork through developing a rapport with the teacher and the pupils.
Your duties might differ slightly depending on which age group or ability you are assisting. A teaching assistant's contribution to schoolwork is now acknowledged as an essential part of a successful education.
Related: How to become a teaching assistant with no experience.
General Duties of a Teaching Assistant
You'll frequently be asked to prepare lessons. This could include setting up equipment, organising schedules and finding books. When the lesson is over, you might have to tidy up. You'll also be actively involved in the lesson itself.
It's impossible for the teacher to provide individual attention for every pupil. A teaching assistant helps to redress the balance by guiding pupils separately or in small groups.
Additional duties include maintaining discipline and encouraging good social skills. You may also have to mark assignments and assess projects.
Responding to Different Age Groups
Your duties can vary widely depending on the age group you're working with. Early learning concentrates on developing fundamental skills such as basic numeracy and learning to read and write.
There's a high amount of artistic creativity to help encourage dexterity. Teaching assistants help young pupils to be curious and eager to learn through entertaining stories and imaginative play.
At the primary level, lessons are more complex. You'll need to prepare well while encouraging learning and thought patterns through questioning the pupils about different topics. You might have to supervise small groups on educational visits to museums and other outings.
Sport takes on a greater significance in these age groups, so you could find you're the referee of a football match or other sporting events.
Secondary education is often much more specialised. If you have a particular aptitude for a subject, you might concentrate on that by assisting different teachers and classes throughout the day.
Pupils frequently have to complete projects. Under the teacher's supervision, you might mark coursework and assist with science experiments.
Progressing to a Higher Grade
Teaching assistants need only limited qualifications in English and mathematics. However, your role includes multiple duties as you support the teacher in class. There are additional activities if you move to a higher grade.
What does a teaching assistant do at a higher grade? There is far more responsibility for a teaching assistant at this stage. You could be involved in collaborating with the teacher by directly planning lessons. The teacher may even allow you to conduct a lesson for certain projects, particularly if they match your specialised skills.
If you take a course to become a higher level teaching assistant, your duties can even include supervising other teaching assistants.
What Qualities does a Teaching Assistant Need?
You'll complete your duties as a teaching assistant more efficiently if you are naturally organised and methodical. Patience and understanding are some of the greatest characteristics, particularly when dealing with young pupils or those with Special Educational Needs (SEN).
A calm, even temperament is an advantage as you'll often experience delays and interruptions when making preparations or assisting with lessons in busy classrooms.
Communication skills are essential. Maintaining a good working relationship with the teaching staff is essential. When dealing with older children, a sense of humour can be a great advantage while carrying out your duties.
If you are fluent in another language, you can be helpful in schools where there's a high proportion of pupils who don't speak English.
Conclusion
Teaching assistant duties are widely varied, from tidying books to providing discipline and preparing complex lessons. You'll essentially follow the teacher's instructions in providing high-quality education to pupils. But you can also establish your own identity and pattern of working.
With a career as a teaching assistant, you'll experience a varied workload every single day. It's perfect if you like being constantly busy with plenty of tasks to hold your interest.