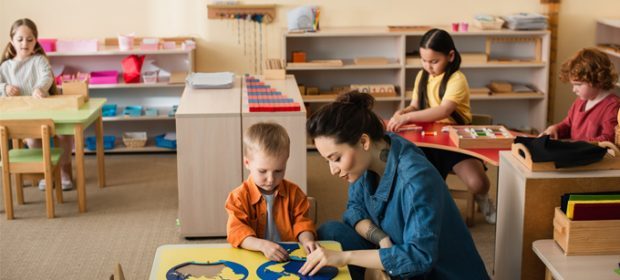 (Last Updated On: September 16, 2021)
Success in any job interview relies on careful preparation and a teaching assistant interview is no exception. Trying to predict teaching assistant interview questions can be difficult but some simple research can go a long way.
Prior to the interview, it is important to find out as much as possible about the school, its pupils and staff. Looking at the school's website and recent Ofsted report can help you to understand the aims of the school and give information about the kind of activities its pupils are involved in.
Teaching assistant interview questions and answers will vary greatly depending on the school and post, however, some areas will always be covered.
Safeguarding children, confidentiality and dealing with unacceptable behaviour are integral to a teaching assistant's role so preparing to talk about these areas is sensible.
Teaching Assistant Interview Questions and Answers
1. Why do you want to be a teaching assistant?
Answer: This is an opportunity to talk about your previous experiences of working or volunteering with children and what you enjoyed and learned. Even if your experience is limited to babysitting or volunteering try and bring out pertinent information in a positive way:
I volunteered at my local school and listened to the children there read. I enjoyed working one to one with the children, helping them with new words and found watching them gain confidence very satisfying.
I was a helper at a local Brownie group and enjoyed helping prepare the games and craft activities every week and helping the children carry out the planned tasks.
I have spent some time working at an after school club and had to supervise children of all different ages making sure everyone had age-appropriate toys and games to play with, stepping in if things became rowdy and making sure everyone behaved and was safe.
This involved setting up the play equipment before the children arrived, giving them a drink and a snack and clearing and tidying the room afterwards. I particularly enjoyed interacting with the children and would love to work alongside the class teacher to help them learn.
See more why do you want to be a teaching assistant answers.
2. Why do you want to work at this school?
Answer: Having looked at the school's website I was impressed by the positive outlook and the initiatives used (anti-bullying/anti-racism/healthy eating) to make the school a happy and safe place for its pupils and staff.
See more why do you want to work at this school answers.
3. If a child tells you that he or she is being harmed by someone outside school what would you do?
Answer: I would follow the safeguarding procedure of the school and report the incident to the named senior member of staff responsible but not disclose this to anyone else. I would try to reassure the child and keep them updated on what's happening.
See more safeguarding interview questions for teaching assistants.
4. How would you deal with a child who persistently misbehaves in the classroom?
Answer: I would work closely with the class teacher to deal with the child in a consistent way. I would use positive encouragement and praise good behaviour when possible and follow the school's behaviour policy if things don't improve.
See more competency based teaching assistant interview questions.
5. What would you do if a parent asked you a question about their child in the playground after school?
Answer: I would explain that I am not allowed to talk to parents about individual children for reasons of confidentiality and would direct the parent to arrange to speak to the class teacher.
6. How would you motivate a child with special education needs who doesn't want to take part in classroom activities?
Answer: I would try and be as positive as possible with the child and encourage them to join in using stickers, reward charts etc. and possibly a special mention in assembly for consistent hard work.
See more special education needs teaching assistant interview questions and answers here.
7. Why did you leave your last job?
Answer: I left my last job because I wanted to pursue a new opportunity. I felt that I had learned what I could from my previous position and while very grateful for that experience, I'm ready for an opportunity to make a difference.
Working as a teaching assistant would let me use some of my strengths and skills while also challenging me in new ways.
8. What are your weaknesses as a teaching assistant?
Answer: My greatest weakness as a teaching assistant is that I don't have much experience. I'm not as familiar with the way things are typically done. Being inexperienced, though, also means that I'm not locked into doing things in a certain way.
I believe that I am adaptable and very open to instruction. I am eager to learn all that I can and look forward to working with a teacher who can offer important feedback.
I believe that my job is to best support the teacher or teachers I'll be working with while learning everything I can from them about education.
9. Why should we hire you as a teaching assistant?
Answer: I believe that children are our future, and one of the most rewarding things I could do is to play a key role in enabling them to reach their full potential.
I look forward to nurturing the children that I work with, encouraging their individual talents and abilities and broadening their horizons so that they are keen to embrace new opportunities.
Teaching assistants have a vital part to play in instilling in children the confidence they need to face challenges and to gain greater independence, both in their work and in their own lives. I look forward to fulfilling that role and supporting young people as they find their way in the world.
See more why should we hire you as a teaching assistant answers.
10. Where do you see yourself in 5 years?
Answer: In 5 years, I see myself having put down firm roots in a school. I imagine myself having strong relationships with colleagues and making a difference in the lives of the students. I see myself as being invested in the lives of my students and supporting the larger community.
I envision a close relationship with the teacher I work with where my strengths are used to best support the teacher's educational goals in the classroom.
See more where do you see yourself in 5 years answers.
11. Why do you want to work with children?
Answer: I want to encourage children of all abilities to develop their hidden talents. Providing interesting lessons for any age group is a challenge I am very keen to explore. I believe I have a suitable personality to become a teaching assistant as I'm generally calm, patient and understanding.
I usually work well as part of a team, but I am also independently resourceful. Improving children's social skills is an area where I can make a worthwhile contribution. I love the idea of being a steadfast influence in their school lives.
See more why do you want to work with children answers.
12. Have you done any training or attended any workshops that are relevant to this role?
Answer: (if it applies to you) Yes, I've just enrolled in a teaching assistant course online and I'm learning something new every day.
I can't wait to have the opportunity to put everything I've learned into practice and watch as my influence helps to mould our future generation.
(If you haven't done any training) - I haven't done any training recently, but it is something I'm looking to do as soon as possible.
I've been researching online teaching assistant courses like the CACHE Level 3 Award in Supporting Teaching and Learning, and I believe a course like this would benefit me significantly.
13. Why did you apply for this job?
I believe Early Years Learning is so important for a child. As a teaching assistant, I'm looking forward to helping the children understand how much fun it is to learn.
When I volunteered at a local playgroup for a few months, I enjoyed reading them stories and helping them do simple arithmetic.
I feel it's important to pay individual attention to every child, including the quiet ones who seem too timid to speak.
See more why did you apply for this job answers.
14. Why do you think you would be a good teaching assistant?
My friends tell me I'm very astute when analysing people's characters. It's easy to see that every child has a different personality.
As a teaching assistant, I believe I can help them learn more by adapting one-to-one lessons to suit their personality traits.
For instance, an introverted child needs to be gently persuaded, reassured and given confidence. An extrovert is always being distracted and needs guidance in how to concentrate on an exciting lesson.
See more why do you think you would be a good teaching assistant answers.
Want to take some of the most common teaching assistant interview questions with you? Download our FREE teaching assistant interview questions and answers PDF now.
Conclusion
Teaching assistant interview questions and answers will often be based around the subjects above with variations in the scenarios used.
Selection is often based on practical experience of working with children, even if they are your own. During an interview, your personality will contribute a great deal towards being appointed.
Think carefully about your answers. Concentrate on motivation and encouraging children to reach their full potential through developing talents and social skills.